The Beauty of Babywearing
Author: Tegan Astley Date Posted:14 June 2017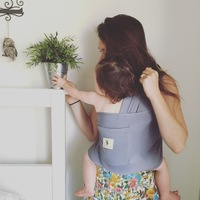 Babywearing is something very close to my heart. I've worn both my babies from birth until around 2 years and will absolutely being wearing baby number 3 due in a few weeks.
I started wearing my firstborn because he suffered terrible reflux and the only place he seemed happy was upright and in my arms, which isn't always practical! I purchased a gorgeous stretchy bamboo wrap and my life changed overnight! I was able to keep my baby comforted as well as being hands free to accomplish those tasks that often feel impossible with a newborn.
Once I had my second, babywearing became an invaluable parenting resource as it allowed me to keep up with an active toddler while carrying my daughter. I even mastered breastfeeding in the wrap!
There are so many other benefits to babywearing; being in close physical contact with a parent provides a baby with a rich learning environment where all of their most important needs can be met – with love and touch.
Recently, Royal Bubs n Tots started stocking the gorgeous Burrow Baby babywearing wraps. These wraps are made using quality eco-friendly bamboo fabric and come in a range of fashionable colours & patterns to suit everyone! These wraps are super soft and perfect from newborn to around 12kg.
We've also just received a shipment of Burrow Baby's gorgeous swaddles. So perfect for swaddling those beautiful newborns or as a light blanket.
Babywearing wraps and swaddle sets available in store and on our website.
Happy babyweaing!
Tegan x
---
Leave a comment